National Hotline:

0551-62329017

Contacts:Mr. Yu
Phone:15155165756
Fax:0551-62329017
Zip code:230601
Mailbox:965994482@qq.com
Website:http://www.kmxcl.com
Address:No.546-549, Renhe Industry Town, Hefei,230081, Anhui, China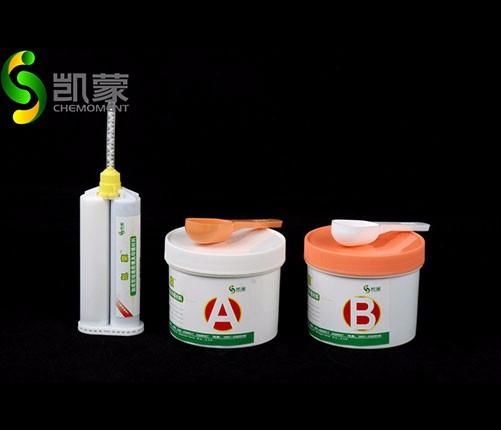 METROLOGY Addition Silicone Casting Material
Replicate any shapes of parts quickly,necessary testing material for everyday use at manufacturing factories
The products are classified as putty and sringeable materials according to consistency
Non-toxic, odorless, safe
*Metrology-Grade Rubber, Cured in 10 Minutes
*Virtually Perfect Replica Casting of Internal and External Shapes and Cavities
*Non-Toxic, safer than fellow products
*Suitable for optical measuring, easy cut by electrician's knife
*Withstand 200°C
1. Casting Putty
1.1. Performance
Part A: Catalyst, white
Part B: Base, blue
Package: 2*400g (specific package available upon request)
ParameterSpecification
Working Time at Room Temperature> 60sec
Setting Time at Room Temperature< 10min
Hardness (shore A)55±2
Permanent Deformation %<0.3%
Dimensional Stability %<0.25
Detail Reproduction (μm)50
Tensile Breaking Strength (MPa)2.86
Temperature Stability60°C 1week
Elongation at Break %290
1.2. Putty Material Introduction and Attention
1) Roll two equal-sized balls of catalyst putty and base putty and simply knead them together like dough. Make a homogeneous color within 40sec (no white color visible). Simply spread over master pushing down with fingers and wait for cure 8-10 minutes. Working time prior to colon added, therefore12-15 minutes start to finish. You can also cast internal shapes and cavities but some pressure should be applied such as a weighted object on top.
2) Sulfur, amine and organic tin will inhibit the setting of putty. Avoid the contact with the foregoing chemicals. Do not use latex gloves. Wear vinyl gloves or use vinyl overliners.
3) Temperature has significant effect on cure speed. The higher room temperature is, the faster the cure will be. If room temperature is higher than 25 °C, keep the materials in a refrigerator prior to use.
Manufacturer's Information
Manufacturer name: Chemoment Materials Co., Ltd.
Address: F9-402, 110 Science Blvd., Hefei, Anhui 230088, China
Tel: +86-551-62329027
Fax: +86-551-62329036
Wechat//Whatsapp:+86-151 56016702
Website: www.kmxcl.com ISO 9001:2000